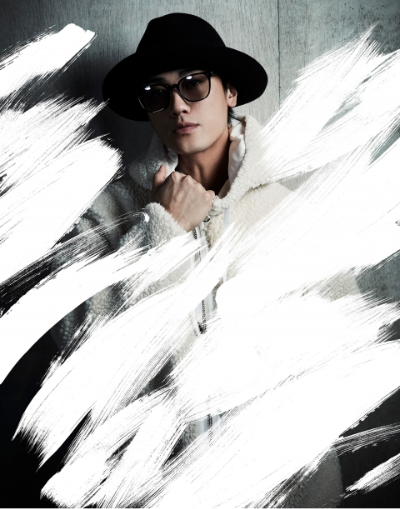 JIN AKANISHI
Born: July 4, 1984 From: Tokyo, Japan
Jin Akanishi made his debut in March, 2006 as a member of KAT-TUN releasing a single album and DVD at the same time. All three releases reached #1 on the Oricon weekly ranking. By April, the single sold over a million copies.

In January 2010, his first Japanese feature film "BANDAGE" was released. Before the film hit theaters, the single for the movie also titled "BANDAGE" as well as the album "Olympos" were released under the band name LANDS, in which he played the lead vocalist in the movie. Both single and album debuted at #1 on the Oricon chart. In February of the same year, Jin's solo show "You & Jin" took place at Nissei Theater. in June, "You & Jin U.S.A." was performed in LA. In July, he left KAT-TUN and announced his solo career. The "Yellow Gold Tour 3010" kicked off in November, hitting five cities including Chicago, San Francisco, Houston, Los Angeles and New York. In December, a global deal was signed with Warner Music Group and a U.S. debut was announced.

The "Yellow Gold Tour 3011" came to Japan in January, 2011 hitting Saitama Super Arena, Osaka-Jo Hall, Nippon Budokan and Kobe World Hall. His first solo single "Eternal" was released that in March, which made it to #1 on the Oricon weekly ranking. In November, he made a U.S. debut, collaborating with top selling recording artist Jason Derulo on "TEST DRIVE". The song became #1 on the U.S. iTunes store Dance Album chart. The song was also released in Japan on a mini-album on December 7th. The next release "Sun Burns Down" also became #1 on the iTunes Dance Album chart and made a #1 debut on Billboard magazine's "HOT SINGLE SALES" and "HOT DANCE SINGLE" charts. On December 28, his second Japanese single "Seasons" was released.

In March 2012, after much anticipation, the first album "JAPONICANA" was simultaneously released in Japan and the U.S. and was followed by the "Jin Akanishi US Tour Japonicana" which hit four major cities in the US plus one Canadian date.

In August 2013, the single "HEY WHAT'S UP ?" was released, soon after in October, the single "Ainaru Houe" was also released. In November, his first Japanese album "#JUSTJIN," which was written and produced by Jin hit store shelves. With the release of "#JUSTJIN" came the Japan live tour "Jin Akanishi's Club Circuit" which kicked off on November. His first featured Hollywood film "47RONIN" hit the theaters world wide in December.

Launch of own label, the start of a new beginning - 7.4.2014 The single "Good time" dropped in August 2014 followed by the mini album "Mi Amor" in November. After Jin's new music hit stores he launched the sold out tour "JINDEPENDENCE" TOUR 2014. In September Jin performed as a main guest in the "Shanghai West Bund Music Festival" soon after he ended his nation wide tour at Shanghai's "Mercedes-Benz Arena"

In June of 2015 Jin released his album titled "Me" followed by "JIN AKANISHI LIVE TOUR 2015 ~Me~" which sold out 19 venues across Japan. In October he re-visited Shanghai to end his tour at the "Mercedes-Benz Arena" . In December of 2015 the live DVD&Blu-ray "JIN AKANISHI LIVE TOUR 2015 ~Me~" was released. Jin received The Most popular Artist in Asia award" & "Music of the year award" at Beijing "2016 Starry Nights!" This is a first for any Japanese artist.

In February of 2016 Jin stared as a special guest in the popular Chinese net drama "Midnight Taxi 2". In March He was awarded the title of "Asia's Most Popular Japanese Artist" at the 20th Chinese Music Awards (CMA). 2016 also saw the release of Jin's album "Audio Fashion" which quickly shot to number one on the Japan, Thai, and Taiwan iTunes Music Store Album Charts. The lead song "Summer kinda love" took number 1 on the iTunes music video charts. Jin's song "We the Fire" also shot to the top of Spotify Japans playlist Top Hits Japan as well as Spotify France's Pop Hits radar.

Following the release of "Audio Fashion" Jin produced the musical score and performed in LESLIE KEE'S short film "PHANTOM" which featured YOHJI YAMAMOTO 2016 fall winter collection

Starting on July 9th, 2016 Jin launched his sold out tour for "Audio Fashion" which extended to over 22 shows Including Shanghai and Macau. As an added bonus Jin performed a special show At Makuhari Messe Hall

On September 21, 2016 Jin dropped "Choo Choo SHITAIN" a hit collaboration with actor Yamada Takayuki under the unit name, JINTAKA. This was his fourth consecutive year being ranked on this list.

In April of 2017, Jin was awarded "BEST MALE ARTIST" as well as "MOST POPULAR ARTIST (JAPAN)" during the 5th Vchart Awards 2017, hosted in China. JINTAKA, Jin and Takayuki Yamada's unit, also were awarded "Most Popular Duo (Asia)" for their debut single "Choo Choo SHITAIN", at the Chinese Music awards hosted in Macau. On May 5th and 6th, Jin held a two day special live event "JIN AKANISHI LIVE 2017 in YOYOGI ~Résumé~" at Yoyogi National Stadium First Gymnasium. In December of 2017 Jin released his album Blessèd and announced a country wide tour for the album starting February 2018. "TC Candler" ranked Jin #66 in "The 100 Most Handsome Faces of 2017", making it his 5th consecutive year being featured on the list.